Landscaping and Building Stone Sun Prairie Wisconsin
Frens Stone is happy to help you with all of your stone needs.  We love to here your plans and are eager show you how we can help to improve the look of your home or business with our wide variety of Building and landscaping stone products. We can service all of your Sun Prairie building and landscaping stone needs from our newest quarry located in nearby in Waupun.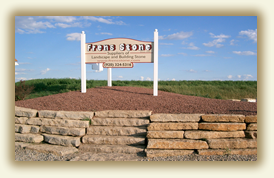 Come in to talk to us about any of the following:
Buff limestone
Wisconsin limestone
Flag stone
Niagara Dolomite
Weathered Edge Outcroppings Snapped Steps
Irregular Snapped Bedface
And More!!!
Splitting available for snap steps and dry wall or custom orders! 
Since 1995, people have come to rely on Frens Stone for quality natural stone products
We offer natural stone products for landscape and building applications:
                         Landscape:
Random Outcroppings
Thick or Thin Dry wall, various heights available
Snapped Outcroppings
                        Building:
Building stone specifications, call for details
A variety of colors:   Buff, Tan, Grey
Wisconsin Rustic ∼ create the "old country" atmosphere with Frens Stone
Large quantities available
Whether it's a landscape project or building application, Frens Stone has the quality and experience to continue to give you the service and products people all over the midwest have come to rely on. And they'll be able to color match your stone jobs for years to come.

For a quick quote Call us at: (920) 324-5316